It's no secret that our beauty and skincare routines sometimes suffer when we travel. Our toiletry bag may not get the attention it deserves (while simultaneously packing four books and 50 pairs of underwear we'll never wear), and we may skip our usual cleansing and moisturizing routine. We've compiled a list of the most common travel beauty mistakes so you can avoid them on your next holiday.
Mistake #1: Using Facial Wipes Instead of Cleanser
The problem with cleansing with only face wipes is that they don't get your skin completely clean and can actually strip the skin of essential oils, creating a cascade of imbalances you'll have to deal with, later on, says Sarah Lore, a licensed aesthetician and founder of Apothecary Co.
Mistake #2: Eating Salty Foods & Drinking Booze Before/ During Your Flight
Taking care of yourself before and during travel can be fun until you become dehydrated and puffy!
"Salty foods and alcohol while on land cause swelling and dehydration already. "High altitude, low humidity, and cabin air pressure can result in dry, dull, puffy skin," says dermatologist Dr. Geeta Yadav.
She suggests sticking to fruits, veggies, and unsalted nuts. If you do choose to drink, do so slowly and alternate with a glass of water.
Mistake #3: Forgetting Your Skincare Tools
In spite of all of this, our diets may still change a bit while we're away. Eat what you want, but keep in mind that what you eat can affect your skin.
"Can that be fixed easily?" Lore suggests packing a skincare tool that can relieve swelling and inflammation, like a gua sha stone or facial roller. The skin will begin to let go of extra fluids after a few swipes, which will decrease puffiness. You will see improvements in circulation, and your skin will be bright and glowing again."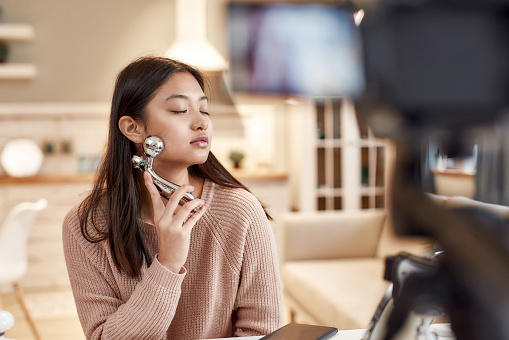 Mistake #4: Completely Foregoing Your Skincare Regimen
You're taking a vacation – not your skincare routine! By maintaining a consistent skincare regimen, you'll keep your skin gorgeous and glowing.
Dr Yadev says, "When you travel, your skin is especially vulnerable because of different climates, planes, and more alcohol and indulgent meals. It can also cause breakouts, irritations, and dehydration."
Mistake #5: Not Doubling Down on Hydration Before Flying
Since aeroplanes are notoriously dry, you should use moisturizing/hydrating products the day before, the day of, and the day after your flight.
'Use a serum on damp skin before stepping on to a flight, then apply a rich moisturizer to lock in moisture,' says Lore. "This prevents tight, itchy skin once you reach your destination.". If you have extremely dry skin, an overnight moisturizer will give you an extra boost of moisture."
Mistake #6: Using Too Much Eye Makeup in Tropical Locales
If you're headed somewhere tropical, humid, or hot, it's smart to forgo extra eye makeup and instead keep it simple, says makeup artist Laura Geller.
When the eye makeup isn't smudge-proof, it may end up where it shouldn't – such as on the eyelid or under the eye – due to perspiration, the pool, beach, or sun exposure. This can also cause irritation. She recommends waterproof mascara and waterproof eyeliner.
Have you ever made one of the above mistakes while travelling? If so, how did it affect your skin? Let's talk about it below!